What is MODAK?
MODAK - MODality-Activation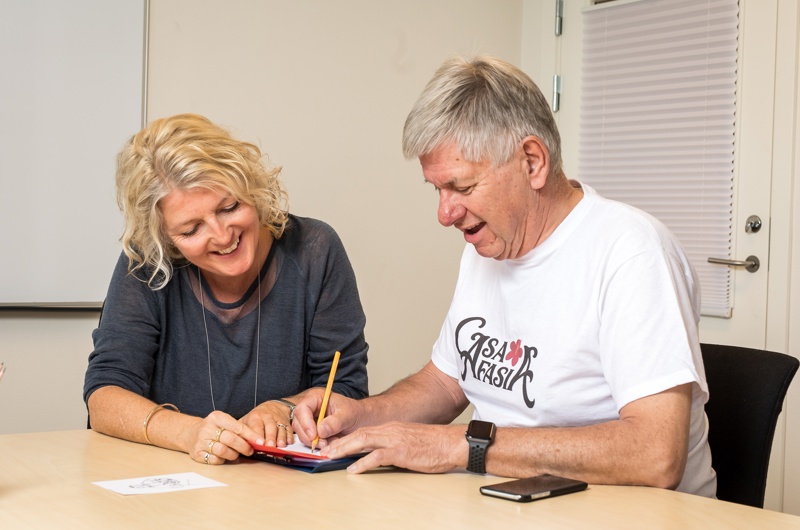 MODAK (MODality-Activation) is a speech therapy concept for treatment of virtually all forms of aphasia in all stages of rehabilitation, developed by the german clinical linguist Dr. Luise Lutz. The method is based on a solid theoretical foundation and on Lutz's many years of practical experience with individuals with aphasia.
The MODAK program consists of a highly structured basic program, sentence expansions, as well as supplementary multimodal exercises that include exercises with current visual materials such as newspapers, texts, and stories that are tailored to the individual's language level, interests, and needs.  All exercises encourage the individual with aphasia to act actively and work communicatively.
The overall goal of MODAK is to rebuild the communicative abilities of the person with aphasia (PwA). The focus is on establishing good communicative contact with the environment, thereby regaining possibilities in the ICF-domains "activities" and "participation".
Since the MODAK material can be tailored to the knowledge and interests of the PwA, it creates the greatest possible motivation. The method is based on structure and familiarity, which gives the PwA confidence and security.
MODAK does not focus on training of specific words or sentences, but aims to reduce basic neurophysiological difficulties such as problems with neural inhibition, activation or synchronous processing. According to Lutz, these difficulties are the cause of typical aphasic language problems such as paraphasias (use of incorrect sounds or words), neologisms (creation of new words), perseveration tendencies (repetitions of sounds, syllables, words, sentence parts or topics), difficulty mobilizing words, and more. Based on the aforementioned syntactic structure subject-verb-object, there is also a goal aimed at restoring and automating the linguistic processes. This happens in small steps. The focus is on working with whole sentences, as words are not formed in isolation but in a linguistic context.
The Basic program is the most widespread and well-known part of the MODAK concept. It was originally developed for people with severe aphasia but can also be used for moderate forms of both fluent and non-fluent aphasia. In the Basic program, all four language modalities (speaking-listening-reading-writing/spelling) are incorporated into systematically structured exercises. The work is based on four situational pictures (see examples below), which can all be described by a sentence consisting of subject-verb-object. The pictures represent a range of different everyday actions.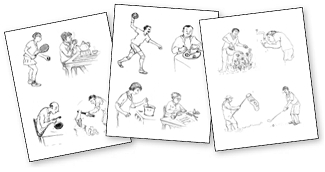 The person with aphasia is encouraged to perform different predetermined language actions, where the four modalities are combined and used in turn. In seven steps (in the "approach"-phase), the person with aphasia is encouraged to point, match sentences with the pictures, give sentences and subsequently pictures back on verbal request, create the target words with the appropriate letter tiles, write them down with independent insertion of the stressed vowel, and finally independently write the target words. This is followed by a dialogue about the four pictures, where the PwA is encouraged to produce the objects that have been processed receptively in the previous steps (see overview below). This separates the word-finding and word-production processes, making the method easier to "digest" for people with severe aphasia.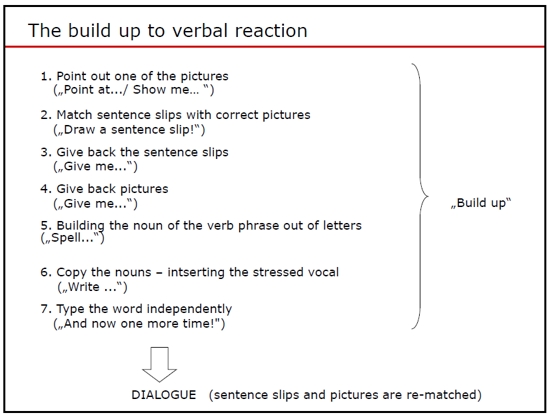 Initially, it may be necessary to assist the person with aphasia in performing the correct actions throughout the program, but over time, the person will be able to participate more and more independently in the exercises. Initially, the focus is only on the production of objects, but as the abilities of the PwA develops and the general language level increases, production of verbs and eventually complete sentences (subject-verb-object) are also included. Four new pictures are used in each training. However, it is possible to use the same pictures multiple times, but in different combinations.
The MODAK picture material is included when purchasing the MODAK book. The book is currently available in danish and german languages.
The pictures are made up of a series of drawings, each illustrating a clear action. The pictures are intended as a good basic material for working with MODAK, but it is also recommended to collect pictures or photos from newspapers, magazines, books and the internet, so that over time, you have a versatile collection of pictures that can be adapted to the wants and needs of the patient - and meet the idea of using new pictures each time.
When selecting a set of four pictures for a training session with the basic program, the following criteria should be followed:
All the pictures should represent the same sentence structure (subject-verb-direct object) 
The objects should not have the same initial sound 
The objects should not have the same stressed vowel sound 
The four verbs should be different 
Example of four pictures from the MODAK book: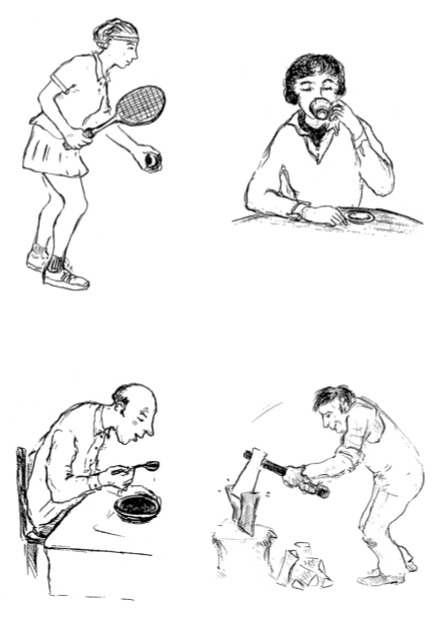 For individuals with mild or moderate aphasia, the basic MODAK program may only be relevant for a shorter period or may not be relevant at all. It may be more appropriate to focus on working with the MODAK sentence expansion. For this group of citizens, there are a number of dialog exercises for the four pictures, which are still rooted in the basic structure subject-verb-object. The supplementing exercises have an increasing degree of difficulty - it starts with normal word order and progresses to inverted word order. The exercises are designed to be taken in small steps, and each new expansion is visually supported by written words. If people with severe aphasia have been able to improve their communication skills with the basic program it should be noted that they may be able to learn certain expansions of these structures and achieve a better automation of speech.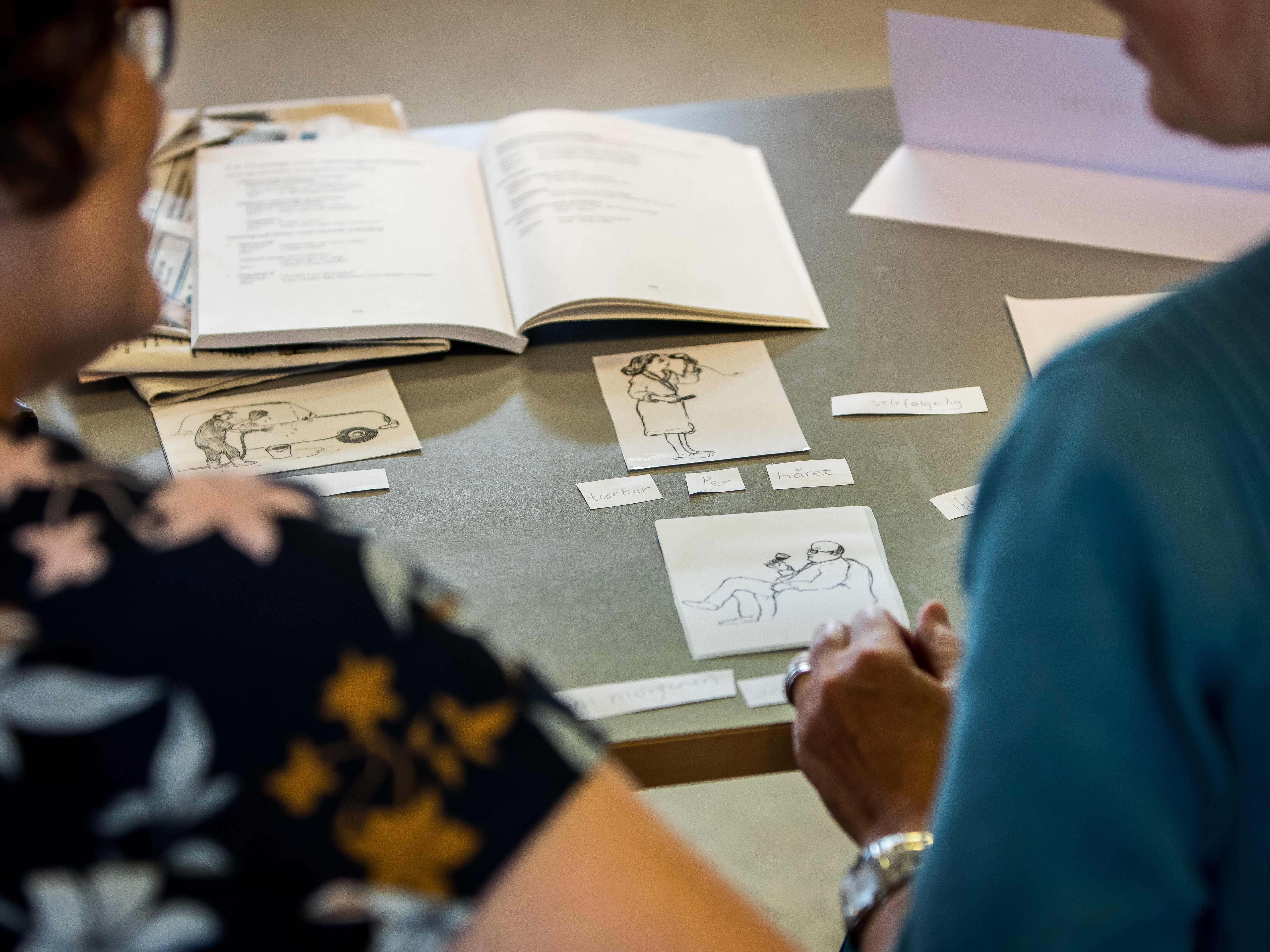 Behind all sentence expansions there is a desire to increase the communicative abilities of the PwA; to enable the PwA to control the enormous number of programming and production processes from a mental level, and to begin to feel like an active participant in contact with the environment.
In addition to working on grammatical structures, it is always recommended to include communicative exercises on current or relevant and interesting topics for the individual.
It is not enough to simply train words and sentences. Just as a sentence is not only consists of the sum of its words, language does not only consists of the sum of its sentences and grammar. Language involves much more than what we are able to practice with the person with aphasia in the few weekly teaching hours we have the opportunity to give them.
Language is driven by impulses that either arise from within - through our memories, desires, or intentions - or from outside; through the situation, words that were said shortly before, our conversation partner's words, and above all, through everything that happens in the world, and what sets our thoughts in motion. This also applies to people with aphasia. The more people with aphasia are inspired by events happening in the world, the better they are able to find words to talk about it.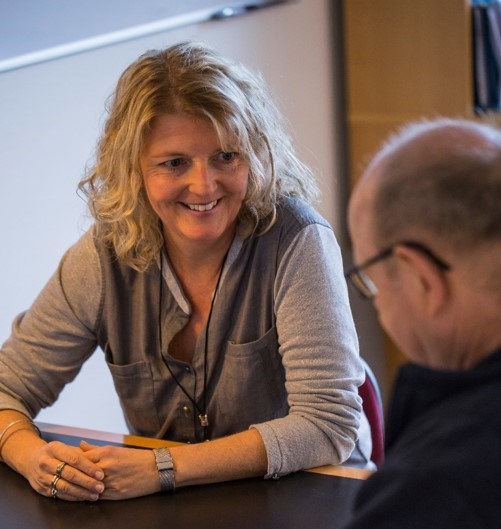 Therefore, it is mainly about inspiring the person with aphasia to have the courage to communicate again and express their own knowledge, opinions, desires and needs. In MODAK, we therefore work communicatively with newspaper headlines, news, articles, photo reports, current or personal pictures that are interesting to the PwA. There are a number of MODAK exercises that both focus on a customized language structure but also encourage the PwA, with the help of the speech and language therapist, to express what they are inspired to say during the conversation.
MODAK has not yet been tested in systematic and controlled studies. Such studies are both desirable and necessary. However, there is increased interest in researching MODAK both in Denmark and in Germany, which has resulted in smaller qualitative studies of the method's effect on a few individuals with aphasia in a time limited, intensive course. In the light of the good practical experience and the solid theoretical foundation on which the method is based, MODAK is an effective and very useful tool for the speech and language therapy for people with aphasia
MODAK was developed by the German clinical linguist and speech therapist Dr. Luise Lutz in the 1980s. Dr. Luise Lutz developed the concept based on practical work with severely aphasic individuals after teaching for many years at various universities. The method became known in Germany and was frequently used by numerous speech therapists. Since then, Luise Lutz has held numerous MODAK courses in Germany and Austria, and occasionally in Switzerland, Belgium, Australia, and other countries. In 2012, the first Danish MODAK course was conducted in close collaboration between Luise Lutz and Karina Lønborg, after which the method was translated and adapted to Danish . In 2016, Karina Lønborg took over all courses in German-speaking countries and in Denmark, and introduced the method in Sweden as well. In 2023, an online course is also planned in Norway.
Dr. Luise Lutz
Has studied linguistics (specializing in neurolinguistics/patholinguistics), speech therapy, and psychology at universities in Hamburg, Edinburgh, Paris, and Brussels.
Has taught neurolinguistics/patholinguistics for 15 years at universities in Hamburg, Bremen, Osnabrück, and at Humboldt University in Berlin.
Has worked as a clinical linguist/speech therapist in the field of "neurological rehabilitation" since 1979 and has developed the concept of MODAK for teaching individuals with aphasia.
Has acted as an entrepreneur and support person for self-help organizations for person with aphasia for many years.
Is the author of the books "Das Schweigen verstehen" (Understanding Silence), Springer 2011 and "MODAK - Modalitätenaktivierung in der Aphasietherapie" (MODAK - Modality Activation in Aphasia Therapy), Springer Verlag, 1997, 2009, 2016.
Has given countless lectures and courses on aphasia and MODAK in Germany, Austria, Switzerland, and Denmark until 2016.
Continued to work on the development of the MODAK concept until her death in 2022 at the age of 91, in collaboration with Karina Lønborg since 2012


Karina Lønborg
Received a diploma in speech therapy from the University of Dortmund in 1995
Has worked for many years with all speech therapy issues for children and adults at a private speech therapy clinic in Oberhausen, Germany
Has been employed at the ViSP Communication Center in Næstved since 2009, where she works as a speech therapy consultant specialized in aphasia and dysarthria
Has been heavily involved with MODAK since 2011 and, in close collaboration with author Dr. Luise Lutz, translated and adapted the method from German to Danish in "MODAK - modalitetsaktivering i afasiundervisningen" (MODAK - Modality Activation in Aphasia Rehabilitation), ViSP, 2012
Has offered courses in the MODAK method in Denmark since 2012, and since 2016 in Germany, Austria, and Sweden
Developed the danish MODAK app in collaboration with Mads Møllevang Nielsen and Palle Møller Petersen 
Is currently working on writing a new, revised edition of the German version of the MODAK book, where she has delved into the topics of MODAK group treatment and working with relatives.